New installation of DC electric reefer unit with electric standby in Southeast Asia
Author:Corun Date:2022/02/21
Recently a batch of DC electric reefer units with electric standby are installed on 5.6m3 Toyota Hilux pickup in Southeast Asia.
The customer is an ice cream factory, their temperature requirement is -18℃.
The reasons for they choosing DC electric refrigeration unit are:
1.save energy of fuel.
2.Reduce engine wear, as the refrigeration unit is working separate from the engine.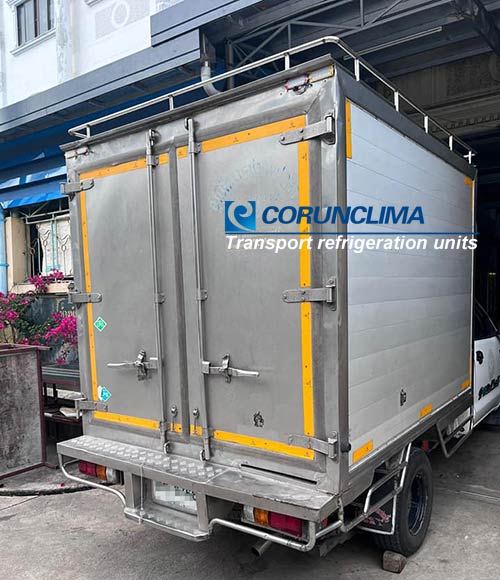 They usually have 1.5 to 2 tons of ice cream and they go all over the country, Sometimes they drive through the mountains.
They used to use belt driven refrigeration units,the experience is bad as there were to much maintenance. Sometimes maintenance of the refrigerated truck, and sometimes maintenance of the unit, all because the engine is used too frequently.
The DC electric unit can solve their troubles very well. As the unit is powered by battery.
With 220V-12V electric standby system, it can also be charged by when at factory or home before loading ice cream.
Overall, DC electric reefer unit is really a good choice for logistics companies and food factories.
Full DC12V electric refrigeration units (e-fridge) can not only been installed on electric vans, but also installed on engine type pickup (bakki, UTE) and engine types vans.
If working on engine type pickup and vans, No need to install mechanic compressor and bracket, installation is easy.
No engine wear, fuel saving, Maintenance cost is much less than engine driven unit, especially when driving on the mountain area.
Full cooling even when idling (waiting red-light signal, parking for loading&unloading goods)
For more benefits, pls contact us freely. info@corunclima.com
TAG:&nbsp&nbspdc electric reefer unit&nbspreefer unit with electric standby