Refrigerated truck units in south america
Author:Corun Date:2022/02/15
Recently, Corunclima a batch of refrigerated truck units V300F was installed on Hyundai H-100 Pickup in South America.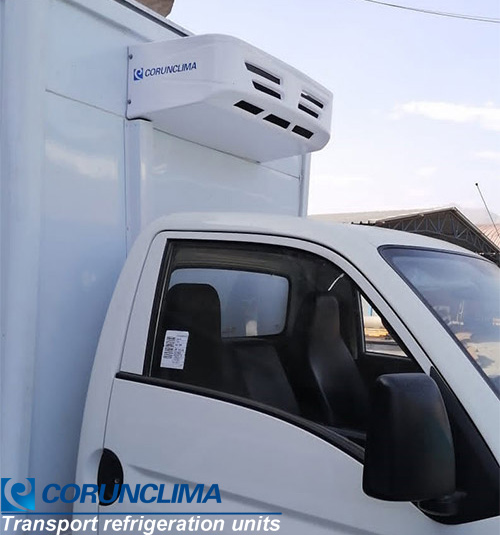 Cooling Capacity: 1650W (-20℃)
Insulation body: 7m³
Reach to -20 degree within 2 hours.
Customer was very satisfied with our refrigerated truck units' cooling performance and fast cooling speed.
Corunclima pickup transport refrigeration units V300F are designed for minitruck, pickup, Bakkie, UTE vehicles whose cargo space from 6-7m³. it is mainly recommended for daily fresh and frozen use to temperature sensitive cargo. The Reliable and stable cooling performance have made it won a large number of markets in Middle East and North Africa countries, such as Mexico, South africa, Iran, Egypt, Russia, Kazakhstan, and Honduras.
Model

V300F

Temperature

-20℃

Voltage

DC12V/DC24V

Cooling Capacity

1610w(-20℃)

Refrigerant

R404A

Compressor

SD5S14

Condenser

Fan Quantity

1

Dimension

925*450*260mm

Weight

28Kg

Evaporator

Fan Quantity

2

Dimension

766*520*130mm

Weight

16Kg

Application

+5℃

12m³

-5℃

8-10m³

-20℃

6-7m³
Corunclima, more than 20 years' developing and manufacturing experience at transport refrigeration unit.
Beginning with product design and engineering, and continuing through manufacturing, sales and after-market support, Corunclima offer a wide range of quality chiller and freezer systems to suit specialized transport requirements, no matter your vehicle is single or multi-compartment, large or small, conventional or hybrid, we always have the ideal solution to protect your valuable cargoes.
We have full range of products, transport refrigeration equipment for truck and van, Engine/ Battery driven/ Diesel Engine Unit /Standby Unit, Front/ Top mounted.
We not only provide high quality products, but also provide Professional technical support, Timely after-sale service,big project developing support,Key client developing support and so on.
No matter you company is related to logistic, truck agent, installation, or dealer of refrigeration units, no hesitate to contact us at info@corunclima.com,we will offer you the most considerate advise as well as exceptional solutions.