Electric Bus/Truck Air Conditioner Automatic Control System Operation Principle Analysis
Author:Corunclima Date:2017/12/19
As life quality continuously increasing, vehicle like bus or truck does not only offer transportation convenience but also required to integrate comfort. So the focus on vehicles has transferred from original external or internal vehicle parts level to refitting or retrofit. Electric bus/truck air conditioner is one of retrofit gadgets. Below is a simple introduction of its automatic control system operation principles.
1. The whole control system usually includes: vehicle inside space temperature sensor, outside temperature sensor, evaporator temperature sensor, sunlight sensor, air control motor, heater, condenser fan, and vehicle inside controller.
2. Depends on separate temperature sensed by the sensors for inside temperature, evaporator temperature, engine cooling liquid temperature, the automatic control system will output and control signal to manipulate heat exchanger fan, condenser fan, compressor clutch, air blower motor, and air control motor to finally fulfill vehicle inside temperature control.
3. Automatic control system receives information of inside and outside temperature, solar radiation, etc. by its ECU (electric control unit). According to operator's setting temperature, it will adjust rotate speed of air blower and cooling air temperature to keep vehicle inside temperature around set value.
4. For automatic control system, each sensor will independently send signal to ECU. According to programmed operating system standard, ECU will recognize the signals to control one or several final controlling elements. Thus inside temperature, humidity, air speed will be controlled and kept in set mode to offer cooling and comfort.
5. Elements of automatic control system include: electromagnetic clutch control, evaporator frosting preventive control, cooling circulation pressure control, condenser fan control, air blower rotate speed control, engine overload protective control, engine idling speed boosting control, refrigerant overheat protective control, refrigerant overpressure protective control, compressor two stage control, double evaporator control, and ambient temperature control, etc.
As more and more electric vehicle has been applied, they will be better-performed in environment protection and cut down operation budget. Compatible electric air conditioner for truck/bus will also be in need for new type electric vehicles without dependence on engine operation. With fuel-saving, low noise, and much secured and effective brushless DC compressor, it is bound to be widely applied for different types of construction machine, truck, trailer, recreational vehicle, agricultural vehicles, etc.
Corunclima multi-functional electric truck cab air conditioner T20B for forklift: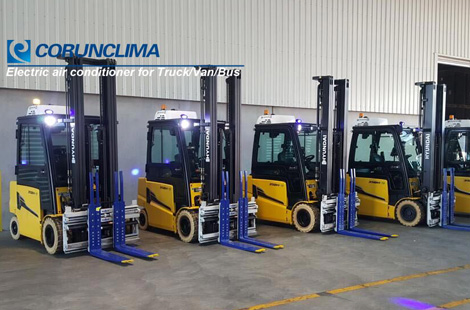 You are also welcome to Corunclima on Facebook & Google+!
Zhengzhou Corun. Tech. Co. Ltd., & Corunclima
With nearly 20 yrs' exp. in R&D and manufacture in transport refrigeration unit and all-electric air conditioner, Corunclima gradually evolves from manufacturer to professional consultant of eco-friendly, cost-effective, customizable transport cooling solution.