Electric Truck Air Conditioner K20BS2 Dec 14th 2017 Installation Case
Author:Corunclima Date:2017/12/14
It seems slack season has come since the upcoming Christmas holiday. Maybe it is not easy to find clients wait in queue for installation of electric truck air conditioner, but some of them still choose to come at this time for shorter waiting time. Considering of continuously growing business in local market, our partner decides to keep some mechanics serving for coming clients while let others become trainers for his branches. Thus the engineering team of his branches would be empowered to cope with more installation works.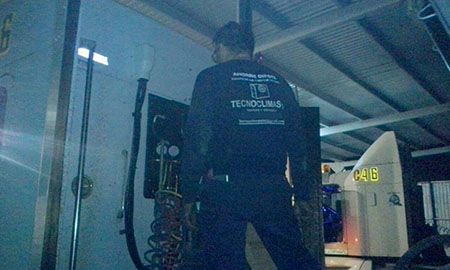 This time we have this Volve VNR model truck coming to garage for electric truck sleeper air conditioner K20BS2. It is a suitable model for regional hauling no matter from interior cab dashboard design or whole exterior components. Interior optimization of dashboard would dramatically reduce distraction through indicating critical information the drivers need at a quick glance as well as concentrate frequently used controls area within easy reach. While driving cab renders the maximum in payload and maneuverability, sleeper has been designed based unique various demands of regional and local hauling. It would be a comfortable and rationally configured mobile home for a night or two rest away from home. Even though sleeper has been added, the whole vehicle tare weight has been in consideration to be precisely refined to offer efficient and lightweight driving environment. Thus even regional and local hauling with increasingly competitive demands would not be anxious anymore. This VNR 640 sleeper with 61-inch mid-roof space does not only provide ample room for rest but also flexible installing position for K20BS2 evaporator inside. K20BS2 controller panel is integrated on evaporator, so it has been installed near original sleeper control panel for centralized control of all electric gadgets inside sleeper. 8,500BTU cooling capacity and 650m³/h blowing air volume of K20BS2 makes it even facing 61" length, 76.5" height sleeper plus 83.5"door to door driving cab space would still efficiently cool down the whole cab area.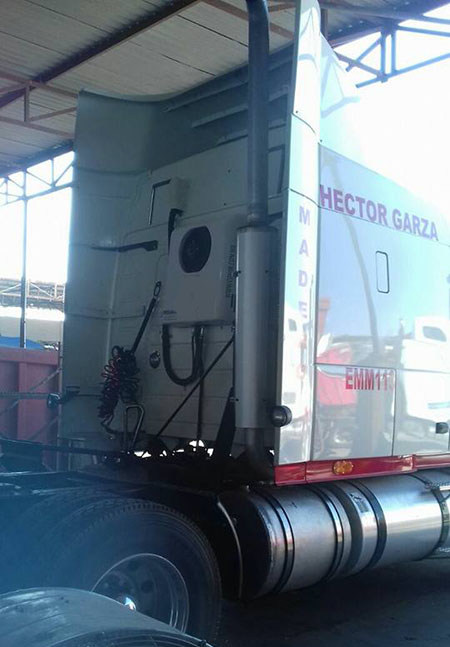 Original vehicle alternator is important for engine switch on as well as to activate electric truck air conditioner. So we always take this part seriously. In most cases, the original alternator is powerful enough just like this 12V, 200Amp one. For long time operation, electric quantity of battery packs is key factor for air conditioner. The equipped 4 pieces of 950 CCA batteries would ensure K20BS2 enduring cooling performance.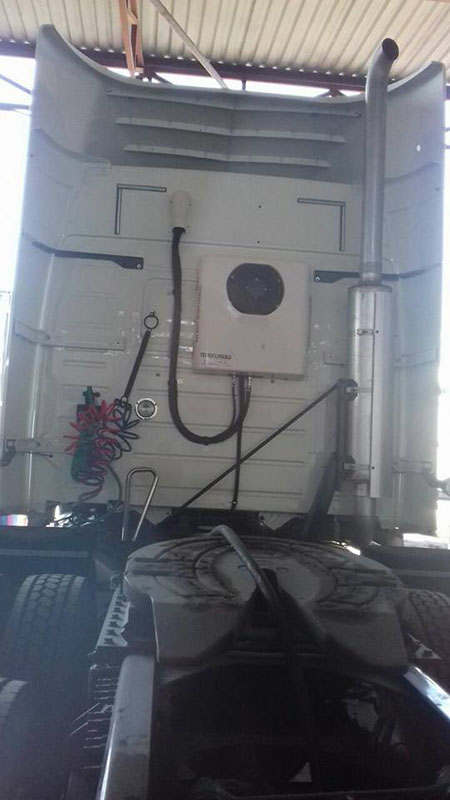 You are also welcome to Corunclima on Facebook & Google+!
Zhengzhou Corun. Tech. Co. Ltd., & Corunclima
With nearly 20 yrs' exp. in R&D and manufacture in transport refrigeration unit and all-electric air conditioner, Corunclima gradually evolves from manufacturer to professional consultant of eco-friendly, cost-effective, customizable transport cooling solution.