Electric Transport Refrigeration Unit C300TB Jan 16th 2018 Installation Case
Author:Corunclima Date:2018/01/16
With more and more electric transport refrigeration unit (TRU) has been installed and applied successfully, our TRU product series helps not only clients to keep uptime of their reefer van/truck/pickup as long as possible to keep their cargo fresh, but also our partners to have confidence in what they recommend and sell to their clients for further development in local market. Moreover, with thorough knowledge of the product, they could start to do some tailored model recommendation for the client based on their unique need. Maybe the product application is now strictly in accordance with its design or explanation in the manual, but flexible usage or installation may better meet the client's need and increase the satisfaction. This time our partner in Mesoamerica refers C300TB installation case to us for freezing need.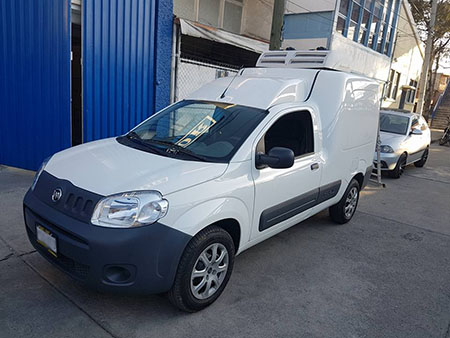 The client's reefer van is Dodge Ram Promaster Rapid, which is exclusive model in Mesoamerica. Though electric van reefer unit C150TB is much suitable as chiller unit for reefer van of this size, the client's requirement of freezing need while continuous cooling operation no matter engine on or off decides C300TB, with larger cooling capacity, deserves to be tested as electric van refrigeration unit (freezing type). The size of condensers, separately for C150TB and C300TB, are nearly same. So they take same space on the van roof top with minimum space occupied. Except cooling capacity of transport refrigeration unit, our partner has help the client to retrofit refrigerated container paneling. The panel thickness has been increased while poly panel with better quality and insulation effect has been adopted to offer better physical condition for whole cooling space. In consideration of refrigerated transport cargo is frozen fish, it is expected to be transport at a temperature not higher than -15℃. Total size of the container is about 3.1m³, honestly speaking it is quite small for freezing cargo, however one time cargo amount is not too much. So for better take advantage of provided cooling medium, the space between cargo and floor, walls and roof, could still be left sufficiently at 1 and preferably 2 inches wide.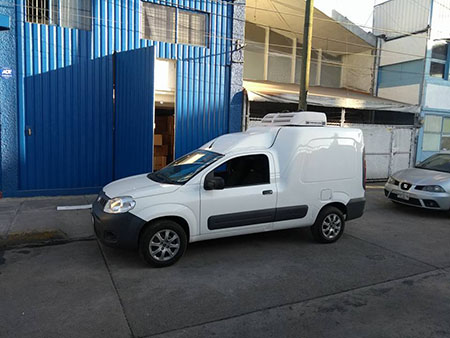 For freezing cargo loading and unloading, to minimize the time spent and keep the cargo temperature is still important. As Dodge Promaster rear door could be open at 90 and 180 degrees and the cargo box could be positioned in order by clamping hooks, cargo transferred from reefer van to cold storage is able to be kept in minimum duration. As for refrigerated container, it is desirable to be precooled by running transport refrigeration unit for some time before the cargo loaded. Our electric van refrigeration unit is designed for such need considering both cooling effect after engine off as well as fuel cost decrease to coherent with no-idle relative regulations. As loading and unloading procedure would not last too long, original battery would be enough to keep reefer unit running after vehicle engine shut off.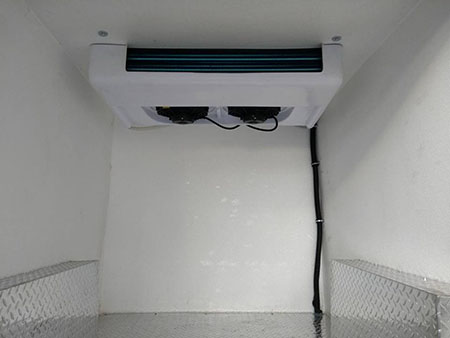 You are also welcome to Corunclima on Facebook & Google+!
Zhengzhou Corun. Tech. Co. Ltd., & Corunclima
With nearly 20 yrs' exp. in R&D and manufacture in transport refrigeration unit and all-electric air conditioner, Corunclima gradually evolves from manufacturer to professional consultant of eco-friendly, cost-effective, customizable transport cooling solution.