Electric Bus Air Conditioner AC100TB Jan 18th 2018 Installation Case
Author:Corunclima Date:2018/01/18
To better extend our electric transport/vehicle air conditioner to more drivers and passengers, as well as the vision of support anti idling propose since each manufacture and application of our electric cooling product, we starts to promote our electric air conditioner for bus to each market. As larger cooling space and much sophisticated wiring and hosing system plus much delicate and higher requirement of technological stability and reliability of inner electric system, we always keep prudent about this series of product promotion. As more and more electric vehicle starts to be put into use and trial, such as Tesla electric truck announced to be launched on the market and accepted more and more orders from renowned fleet company at the end of 2017, electric vehicle cooling system is bound to lead the trend of future transport HVAC system. Moreover, our recent electric air conditioner for bus installation and application has been recognized by both our partner and client, so we make our decision to make another big step on this market share.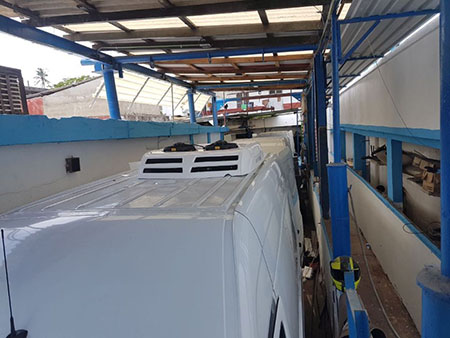 We have mentioned about our recent installing AC65B, rooftop air conditioner for van in our previous news, its time-saving on installation (simpler installation minus long-distance wiring and hosing connected to compressor inside bonnet, trim panel design and installation inside passenger or cargo space), less fuel cost (all electric DC battery driven) impressed both our partner and client. The user of AC65B helps our partner to extend our product to his friend, then we got this time installation of electric bus air conditioner AC100TB for Mercedes Sprinter van. Client referral and recommend from one to another proves not only quality and friendly use of our product, but also satisfactory service and professional consultation from each of our global service center.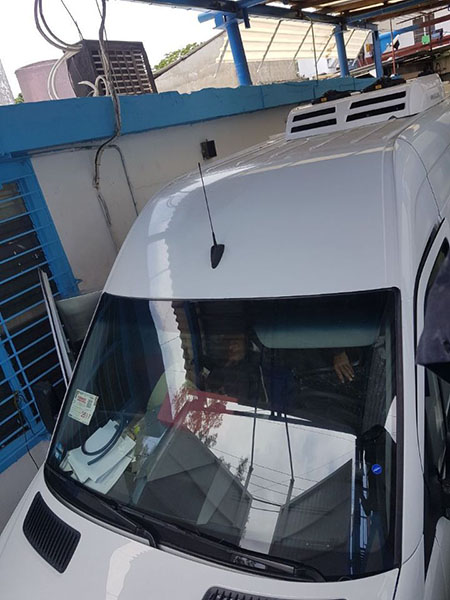 Totally 3 Sprinter vans needs to be installed with AC100TB and all has been parked in our partner's garage. We got the information that the client runs his business of IT service and maintenance and he decides to do some publicity activities in recent plaza. So these vans will be used as mobile office, which could be drove from one place to another meanwhile parked nearby recent service zone as expo booth and office for publicity. Definitely we are glad to hear about the application for such intention since the client obviously need the air conditioner continuously cooling even shut off vehicle engine, as well as compatibility with AC electricity when connecting to charging pile. Our electric bus air conditioner is just designed for such need and has included all features and convenience for all types of electric transport cooling service. With inverter added, DC powered bus air conditioner is easy to be compatible with common civil AC electricity.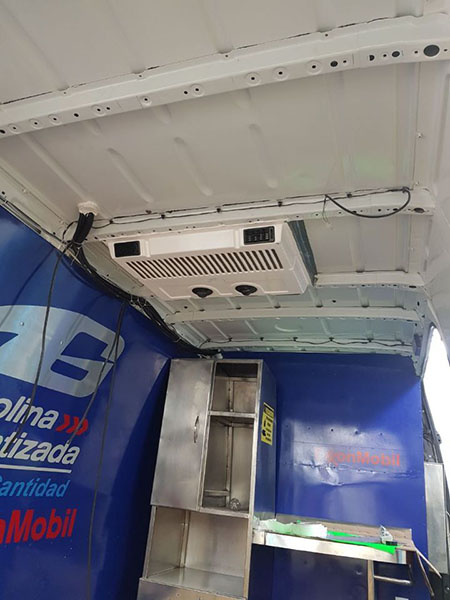 Now let's take a look at the specs of van. As the client has intention to use the van as mobile office, he chose cargo type of Sprinter when he procured these three vans since more flexible upfitter options and spaces inside the cab, such as shelf, hooks, or other appliances. Sprinter cargo van would also allow the user has more options on cab size as different length of wheelbase, and this type is minimum type with max inner size of 563.6 cubic feet (about 16m³). AC100TB, with cooling capacity of 10KW and air flow volume of 1,800m³/h, is the most appropriate model for this cooling space. As a condenser-evaporator integrated roof mounted type, it will not influence aesthetic of original vehicle appearance while take less space inside the cab. Electric specs of the vehicle is always important for electric series cooling unit. This type of Sprinter has been equipped with 12V/100Ah battery and 14V/200A alternator, these two parts decide and ensure AC100TB would normally operate no matter in driving or parking.
You are also welcome to Corunclima on Facebook & Google+!
Zhengzhou Corun. Tech. Co. Ltd., & Corunclima
With nearly 20 yrs' exp. in R&D and manufacture in transport refrigeration unit and all-electric air conditioner, Corunclima gradually evolves from manufacturer to professional consultant of eco-friendly, cost-effective, customizable transport cooling solution.