Electric Transport Refrigeration Unit C350TB Jan 22nd 2018 Installation Case
Author:Corunclima Date:2018/01/23
Our client in Middle East is preparing for this year's business and have different brands and types of transport refrigeration unit for storage. As he runs a vehicle retrofit company with professional technician team, this strength enables him to directly procure brand new vehicles and TRUs from suppliers. Since it is the first time that he shows interest in electric transport refrigeration unit, we are quite discreet about model recommendation since the differences between conventional and electric type in such as wiring and hosing, installation, etc. In such consideration, we have offered complete product guidance kit to him before his decision to mount one for his vehicle.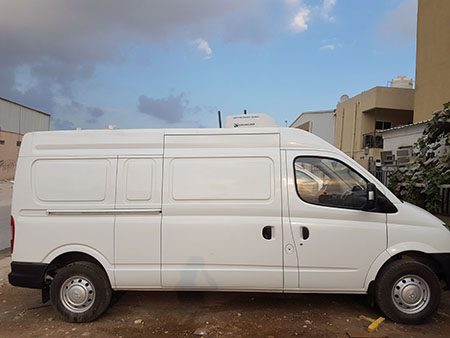 It is a slack season in his country for the temperature during this period is quite cool and temperature-sensitive cargo will also be easy to be coped with. However this period could also be used as preparation for upcoming busy season several months later. So our client would retrofit truck, van, or pickup into different types of reefer vehicle and directly sell these vehicles to end users with cold chain transportation need. He has received new batch of SAIC Maxus V80 vans and not long after that his customer has placed order for them. So he refers his need of to us and try to find some options for his reefer vans. First we are proud to see the product made in China has been gradually recognized and accepted by global users owing to both SAIC V80 functional van and Corunclima transport cooling equipment are 100% designed and manufactured in China. And this time these two products finally meet each other in foreign market to show each strength earning trust from the client and helping them to earn more profit.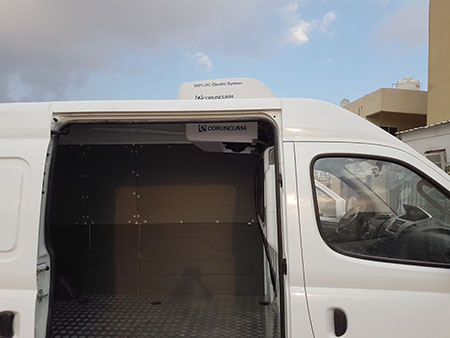 The reefer vans are expected to be used to transport dairy product. So the required temperature may range from -5℃-0℃ as all dairy product is an ideal medium for microbial growth. They are highly perishable and needed to be stored under chilled environment. Though most of dairy product would have already been pasteurized at 72-78℃, they are still need to be well positioned and stored within required temperature throughout the cold chain. And most governments in foreign countries has regulations on dairy product refrigerated transport. Recommend temperature for some dairy product, such as butter may require temp ranges from 0 to +2℃, which for cheese ranges from 0 to +4℃,and which for milk ranges from 0 to +1℃. After thorough knowledge of required temperature, we need to take a look at electric specs of vehicle. The original alternator is 12V, 155Amp and cargo volume is about 10.2m³. For this size of cargo container, we have recommend electric van refrigeration unit C350TB for the client. C350TB, with cooling capacity of 3,080W (-5℃) and powerful double blower evaporator and double fan condenser, would perfectly take chilling responsibility for reefer van of 10-12 m³. Also it has been proved highly efficient in Middle East for equal size Nissan reefer van before, even exposure to hot temperature. So we are confident about cooling efficiency for this time model recommendation.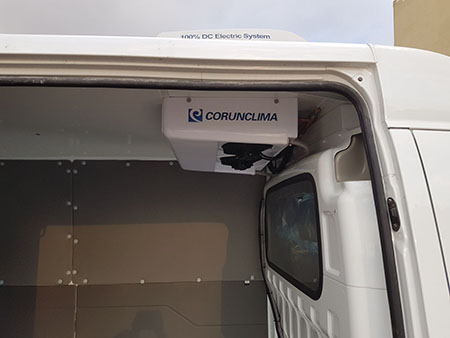 To ensure cooling capacity, the client has accepted our some other suggestions on reefer van retrofit, such as paneling the van with about 3.9" poly board and change vehicle alternator into 170Amp type for power increase. As the vehicle battery power may not be sufficient enough to support C350TB continuously operation after engine off, we have included current inverter together with C350TB inside the package. This gadget will enable C350TB operate when the vehicle engine shut off, and electric system of which connecting to charging pile.
You are also welcome to Corunclima on Facebook & Google+!
Zhengzhou Corun. Tech. Co. Ltd., & Corunclima
With nearly 20 yrs' exp. in R&D and manufacture in transport refrigeration unit and all-electric air conditioner, Corunclima gradually evolves from manufacturer to professional consultant of eco-friendly, cost-effective, customizable transport cooling solution.