How to distinguish cooling effect of refrigeration unit for van
Author:Corun Date:2021/09/13
First of all, let us understand the refrigeration principle of a refrigeration unit for van in the following:

The unit is composed of four basic parts: refrigeration compressor, condenser, evaporator and throttle valve. Pipes connect them together in turn to form a closed system in which the refrigerant gas constantly circulates, changes in state and exchanges heat with the outside.

Liquid refrigerant gas in the evaporator absorbs heat, vaporized into the low temperature low pressure steam. Then it passes by the compressor, compressed into high-temperature high pressure steam into the condenser. The condenser releases heat to the cooling medium (water or air). The steam is condensed into high pressure liquid. Through throttle valve the liquid is converted into low pressure low temperature refrigerant gas again. Finally, the gas returns evaporator, achieving the goal of cycle refrigeration. In this way, the unit completes the cooling cycle through four basic processes: evaporation, compression, condensation and throttling.

There are some factors to affect the cooling effect of refrigeration unit for van:

1. Condensation temperature. If the condensation temperature is high, the refrigeration efficiency will be very low.

2. Heat exchange efficiency of evaporator and condenser. For example, whether the evaporator is frosted. At the beginning of frosting, the heat transfer efficiency increases, so the refrigeration efficiency increases; If there is too much frost, it will seriously affect the heat exchange and the refrigeration efficiency will decline rapidly. 3. Evaporation temperature. What low temperature do you want? If the evaporation temperature is low, the refrigeration efficiency is low. Generally, the cop of civil refrigerants is greater than one, generally between 3 and 4, but the cop of many industrial cryogenic chillers is lower than one.

4. The type of refrigerant will also affect the refrigeration efficiency.

5. The Compression Ratio of the compressor will also affect the refrigeration efficiency.

6. The throttling device will also affect the refrigeration efficiency. The greater the work dissipation caused by the throttling device, the lower the refrigeration efficiency.

The refrigeration unit C150TB for mini-size vans&trucks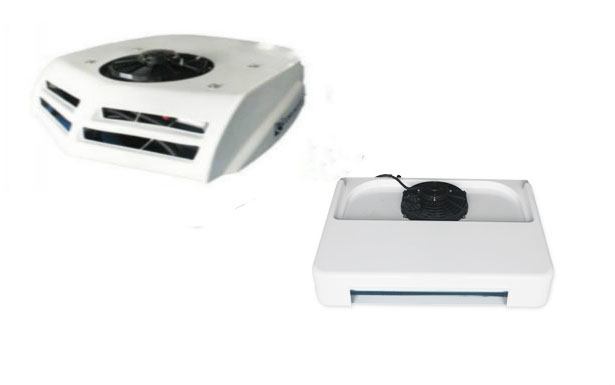 Compressor: DC brushless is with overvoltage and undervoltage protection and limiting current and overload protection. The protections facilitate optimum Compression Ratio of the compressor.
Refrigerant Gas: R134A, which does not destroy the ozone layer. R134A is a refrigerant with a good performance. After it is pressurized, R134A can easily go into liquid.
Defroster: Optional / Hot Gas. The customer can choose to use hot gas or not according to the frost condition to raise the refrigeration efficiency.
Evaporative Condenser: Due to the rapid flow of air, the air can remain unsaturated in the whole process, and the driving force of heat and mass transfer is greater. Thus the heat exchange efficiency of Evaporative Condenser is very high.
Condenser: With Special cooling equipment, condenser can keep low condensation temperature.
Owning to great cooling capacity, our electric refrigeration units quickly entered the market in Mexico, Southeast Asia, South Africa, North America, UAE and Middle East etc. and account for certain shares. At the same time, the units approve ATP certification in Europe and are cooperating with OEM partners in North America. If you are transporting last-mile delivery, our units for van & truck can also satisfy your demand.
For more info about electric refrigeration units C150TB, please visit our facebook and LinkedIn. Thank you.
TAG:&nbsp&nbspcooling capacity&nbspcooling effect&nbsprefrigeration unit for van