The New Installation Of Truck Freezer Unit V350F
Author:Corun Date:2022/03/02
Recently, Corunclima engine driven pickup freezer unit V350F was installed on a Toyota Hilux pickup in Australia.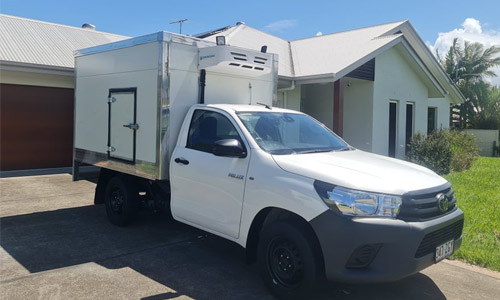 Temperature: -18℃
Insulation body: 7m³
Cooling Capacity: 2250W (-25℃)
Application: mini truck, pickup, Bakkie, UTE vehicles from 8-20m³
AC220V/AC380V standby system is optional
This truck freezer Unit model V350F is equivalent to Carrier Citimax 400, Hwasung HT100, Denso DS2. It is designed for most of common cargo space ranges from 6-7M³and recommended for some daily fresh and frozen use to temperature sensitive cargo. We have two choices for you : deep frozen -20℃ for 10 m³ truck body, chiller + 5℃ for 20m³ truck body.
Model V350F has two condenser fans, two evaporator fans, which makes it down to -18℃ within 2 hours. And the powerful cooling capacity keep itself working continuously and steadily at the set temperature.
Besides, considering the durability of spare parts, Corunclima adopted original top brand such as Sanden/QP/TM compressor, Danfoss expansion valves, Danfoss solenoid valves, China top brand Fan/Blowers (more than 5000 hours), Goodyear Hose, Digital Controller and so on. We ensure every detail was under our strict quality control to guarantee our unit a stable and long-lasting cooling life, and in the meanwhile, the strictest quality control becomes our main competitive advantage, which brings our more and more successful partners and a higher reputation all over the world.
We Corunclima always insist on producing durable quality units with reasonable price. Till now, model V350F has occupied a significant share in Middle East and North Africa market. The reliable and stable cooling performance was highly recommended even in some high temperature and humidity environment.
If you want to see what we can support you and your business, please don't hesitate to contact us at info@corunclima.com.
Looking for long-term partners. Customization is also possible.