Corunclima Electric Truck Air Conditioner for Kenworth T880 Truck
Author:Corunclima Date:2017/10/17
With prosperously developing local business of electric truck air conditioner, our partner in Mesoamerica, Mr. Sebastián, does not stop extending the business into other countries. His friend in neighboring country, which they met before in North America truck expo, is would like to introduce our electric truck air conditioner into his own local market as alternative for conventional engine driven type. After several months' discussion and negotiation, they finally reached agreement on product introduction.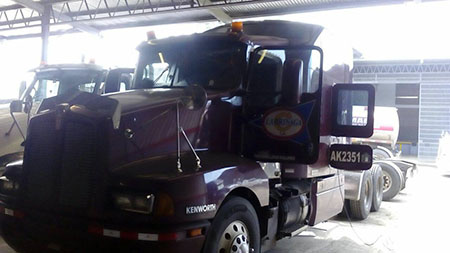 Mr. Sebastián sent his engineers to his friend's mechanics team for technical guidance and training program. After first few installations, they now could conduct model recommendation, installation, and maintenance independently. With proximity of two countries (Mr. Sebastián's friend locates at southern part of Mesoamerica), they could pick products up easily from Mr. Sebastián's warehouse according to demanded account. As a feedback from the subsidiary of our partner, they referred an installation case of electric truck sleeper air conditioner K20BS2 to us.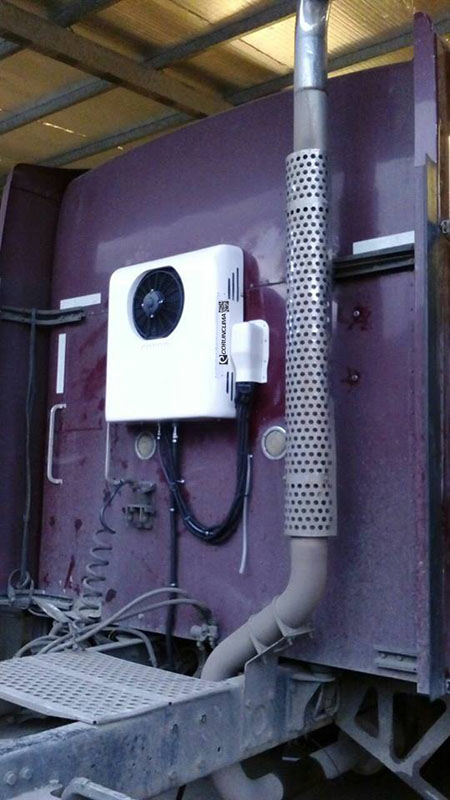 Then we have seen K20BS2 has been equipped with this purple-painted Kenworth T880. T880 is a reliable, multi-functional vehicle capable of performing toughest job day in and day out. Its design has integrated strength, stamina, and operating economy. As what we know about local market, this type of truck has been dispatched with various jobs such as bulk tractor, tanker, dump truck, heavy hauler, refuse truck, etc. With about 70" driving cab, the driver has been offered wide and clear vision of road and traffic condition. Besides, if a layover has been included in the schedule, 52-inch length, 94-inch wide sleeper would be an ideal place for rest. So according to what we mentioned above about internal size of whole cab, cooling capacity of K20BS2 would be a perfect cooling solution for the truck.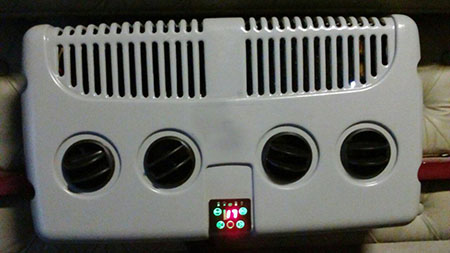 Then let's see the electric specs of T880. Output current of original vehicle alternator is 160Amp. This has been sufficient for normal operation of K20BS2. What's next is its battery packs. 3 pieces of 12V PACCAR dual purpose battery with 700 CCA, they are dependable companies for the air conditioner as power source to keep it run.
* Alias has been used in the news for commercial secret protection.
You are also welcome to Corunclima on Facebook & Google+!
Zhengzhou Corun. Tech. Co. Ltd., & Corunclima
With nearly 20 yrs' exp. in R&D and manufacture in transport refrigeration unit and all-electric air conditioner, Corunclima gradually evolves from manufacturer to professional consultant of eco-friendly, cost-effective, customizable transport cooling solution.