Corunclima Electric Refrigeration Units - Your Trusted Refrigerated Fleet Partner
Author:Corun Date:2023/11/01
As the safe, smart, and sustainable refrigerated solutions, Corunclima electric refrigeration units offer maximize cooling efficiency while consume less power, ensuring your products reach their destinations efficiently and on time.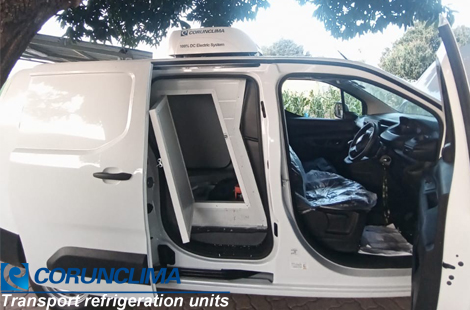 Corunclima has the capability and flexibility to ensure the total support that your business needs. We provide efficient and cost-effective refrigerated solutions that perform exactly as our clients need them to and in the most cost-effective way. Our refrigeration units have high safety, less power consumption, zero emission, low operation cost, suitable for EV truck and engine trucks.
Powered from vehicles original battery or auxiliary battery bank directly, Corunclima electric refrigeration unit would be an ideal choice for last-mile delivery because of its consistent cooling performance while the engine is off. They can not only save fuel and engine power, but also quickly cool down, which perfectly copes with the situation of opening and closing doors many times in urban delivery.
From 2016 year, Corunclima, pioneer in the manufacture of electric refrigeration units for class 3 to 7 EV trucks. We have been fortunate enough to partner with the industry's leading brand vans&truck builders, such as VW Caddy, Renault Kangoo, Maxus, e-NV200, BYD T3, etc. As well as maintaining long lasting customer relationships with smaller companies that have benefited from an enhanced cold chain. The quality of our products has been proven in UK, Germany, Austraila, South Africa, Canada, US etc.
For over 20 years, Corunclima has been dedicated to delivering top-notch transport refrigeration solutions that are both competitive and of high quality to its customers. Our cooling solutions own cutting-edge technology, plus precise temperature controlling, plus durable quality, allowing for your goods transported more efficient, reliable, and cost-effective.
Whatever the size of your fleet, if you're transporting temperature-controlled goods and are looking to reduce your cooling fuel costs, get in touch with us for a quote that's the right fit for your company: info@corunclima.com.
TAG:&nbsp&nbspdc electric refrigeration unit