Corunclima Will Demonstrate Our Innovations in Transport Refrigeration in Mexico
Author:Corun Date:2023/10/24
Corunclima team will be exhibiting at the Expo Transporte ANPACT 2023 in Mexico from 11/15 - 11/17, to share our latest breakthrough technology and innovative solutions in transport climate control. Stop by booth M0222 to learn how our transport refrigeration unit delivers sustainability, efficiency and reliability for various cold chain applications. We truly look forward to staying in touch with you at the exhibition!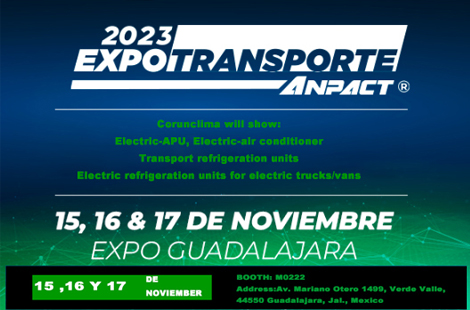 At Corunclima transport Refrigeration, our focus is on developing innovative refrigeration technologies that cater to our customers' unique needs and preferences in their regions. We're proud to offer solutions that not only deliver exceptional performance but also prioritize energy efficiency. Our refrigeration products are designed to optimize energy consumption, reducing operational costs while minimizing environmental impact.

Utilizing top brand TM compressor, Danfoss expansion valve, our cooling solutions achieve outstanding energy efficiency levels. These spare parts, plus our durable quality, cutting-edge technology, and superior cooling performance, allow for a precise temperature controlling, ensuring your goods in a perfect condition and making your operation more efficient, reliable, and cost-effective.

We offer a range of qualified equipment that is essential for temperature-controlled goods transportation. Our portfolio covers vans, pickups, trucks. From last-mile delivery to long-haul, we have the most suitable cooling solutions to ensure the perfect temperature for your goods throughout the transport. By choosing Corunclima, you are not only investing in a reliable refrigeration system but also actively contributing to a profitable future for your cold chain.
Looking to level up your refrigerated transport?Don't miss your stop! We will showcase our products' many benefits, such as sustainability, fuel reduction, performance, increased intelligence and future innovations. the Expo is on the horizon, and we'd love to see you at our booth!
We would be thrilled to welcome you, engage in insightful conversations about your specific needs, and demonstrate how we can be a valuable partner for your transportation business.
TAG:&nbsp&nbsptransport refrigeration units