Electric Truck Air Conditioner Equipped for Cascadia Evolution Truck
Author:Corunclima Date:2017/10/24
Mr. Alberto helps us to update our installation case news with his recent installation of electric truck air conditioner K20BS2.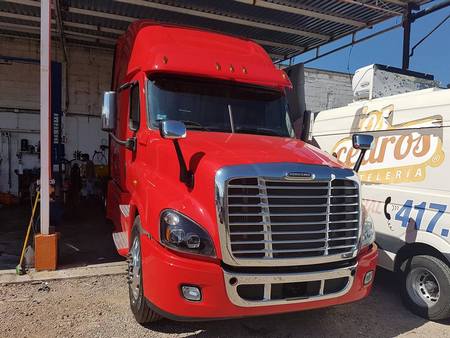 It is said that this Freightliner Cascadia Evolution truck will be used as reefer truck. But currently we only see the truck without reefer container. If the client has the need to equip transport refrigeration unit with his container, we could also recommend proper model for him with the support from our partner's professional engineer team and local warehouse. We have seen many Cascadia truck used as reefer truck for temperature-controlled loads. With its advanced aerodynamic enhancements and latest engine technologies, this type of truck is truly an impressive fuel economy choice for hauling refrigerated trailers no matter for food and beverage, flowers, or pharmaceuticals. So if the client may come back for consultation of cargo cooling solution, we are glad to offer the service on that part and have his reefer truck integrated with whole series of Corunclima cooling solution both for drivers and cargo.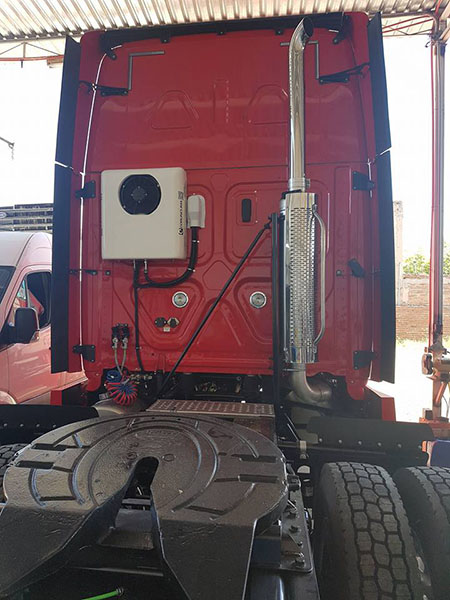 Now let's get back to see the condition of cab interior. Comfortable is also a factor contributes to productivity. We believe that this 60" raised roof sleeper will be a real moving home on condition equipped with our air conditioner. The cab is really roomy with stand tall of 92" cab headroom and towering 97.5" in the sleeper. There is 24" space between seats and plenty of aisle room for easily entering the sleeper which enables have a 40" wide × 80" long mattress. After wiring and positioning is complete, and K20BS2 quietly send cozy cool air into the cab, the client referred to Mr. Alberto that he does now really enjoy the stay with his truck. So we believe that K20BS2, complete battery driven truck sleeper air conditioner, now is compatible with this spacious moving home.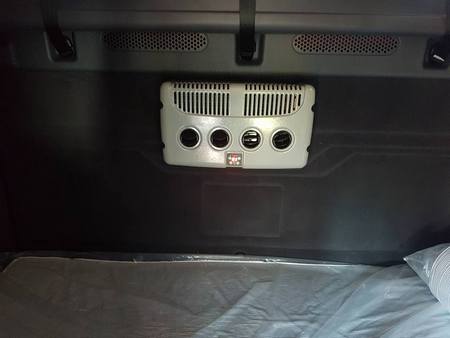 Finally, it is time for description of electric specs of the truck. Maybe it has become cliché for the readers, but it is the most important part for electric truck air conditioner since its power source is electricity. During model recommendation for the client, our partner needs to have each detail about electric specs of original vehicle. Alternator and battery pack are key factors including in these information. The alternator output current of this Cascadia Evolution is 12V, 170Amp and total 3 sets of battery is 950CCA. According to the information, the air conditioner could at least consistently operate for 6-7hrs after engine off.
* Alias has been used in the news for commercial secret protection.
You are also welcome to Corunclima on Facebook & Google+!
Zhengzhou Corun. Tech. Co. Ltd., & Corunclima
With nearly 20 yrs' exp. in R&D and manufacture in transport refrigeration unit and all-electric air conditioner, Corunclima gradually evolves from manufacturer to professional consultant of eco-friendly, cost-effective, customizable transport cooling solution.