Corunclima Rooftop DC Electric Air Conditioner Installed In South Africa
Author:Corun Date:2022/05/11
Recently,Corunclima all-in-one rooftop DC electric air conditioner T20B was installed in South Africa by our partner.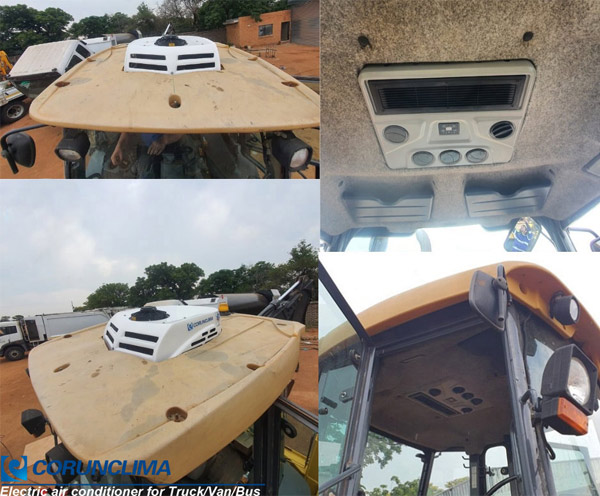 Corunclima electric air conditioner T20B, mainly used for construction vehicles, agriculturial vehicles, truck sleeper cabs and other cabs of special vehicles.
It is driven by battery. When the engine off,the A/C can still work depend on the 12V/24V vehicle original battery. It is condenser and evaporator all-in-one type,the DC electric compressor is built inside, very easy to install, just 30minutes 2 workers can finish it.
We adopt high-quality interior components and unique technique to ensure our aircons durable. This was proved that the lifespan can reach up to 10 years even in mining equipment and earth-moving machineries. Apart from the superior producing skills, all parts of our aircons are integrated into 1 monoblock, you will never touch unnecessary parts at all, no risk of breaking any other parts, all of these make it low cost and low maintenance.
Last but not least,our products is fuel-saving. As there is no need to install compressor, it doesn't cost fuel from the engine at all.Just imagine that in this era of soaring oil prices, you can save about 3,000 gal fuel per year.
We have already established partner cooperation with many mining plants in South-Africa, Namibia, and OEM partner cooperation in many armour vehicles factory in Mid-east countries. Even in the high temperature and high humidity environment, our aircons still work perfectly. The robust and durable feature have won a large number of public praise from our customers.
Corunclima started to design, produce and export electric aircon since 2006, we own the real technology of it. We not only provide high quality products, but also provide professional technical support, timely after-sale service,big project developing support,key client developing support.
If your heavy duty trucks or earth-moving machineries have original aircon inside when running, but drivers want to sleep or have a break under a comfortable environment, Corunclima dc electric ac is your best choice.
Welcome to discuss more on different applications via info@corunclima.com.
ODM and OEM are available too.
TAG:&nbsp&nbspelectric air conditioner