Top 5 Benefits Of Corunclima Full DC Electric Refrigeration Units
Author:Corun Date:2022/04/29
Refrigerated transportation is a method for shipping freight that requires special, temperature controlled vehicles.
The most obvious benefit of refrigerated transportation is that it keeps products from deteriorating and losing their value during the transportation process. This is not only true for food, such as produce, meat and dairy, but also for other sensitive items such as medical products and pharmaceuticals.
The global trade of perishable items has increased in the past years and is projected to continue increasing. This has caused high demand for quick transportation of fresh perishable goods.
To ensure a reliable and stable cooling performance,fleets now pay more attention on the refrigerated units which are built-in the transport vehicles to keep products at a desired temperature throughout the transportation process.
What kind of Refrigeration Unit is popular now and how can we choose a suitable unit ?
Today ,we will introduce the Corunclima full DC Electric Refrigeration Systems and explain the benefits they will bring you!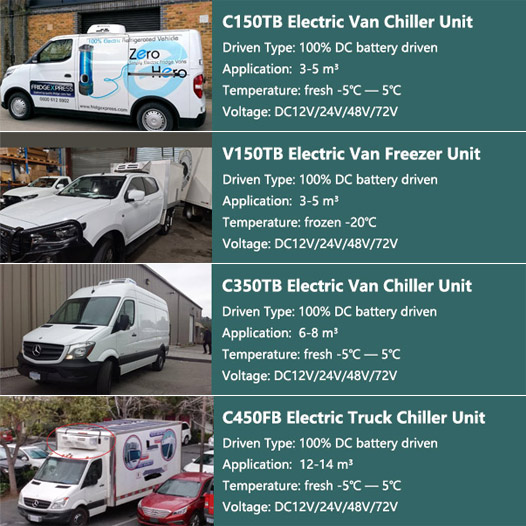 1. Driven by batteries directly
The main characteristic of DC Powered Electric Refrigeration Units is driven by the vehicle's battery or Auxiliary battery pack , getting rid of the dependence on the original vehicle engine. It does not need the compressor bracket, easy to install, save energy and protect the environment.
2. Low cost and low maintenance
Compared with directly driven fridge, battery driven fridge can save 2-2.2L/100km,they can save at least 4800 litre fuel each year for your vans&trucks( Based on 8 hours working each day) at same fresh delivery, it means you can save money of 4800USD each truck per year.Besides, when you are loading & unloading goods, you needn't worry for unnecessary fuel expense and engine wear.
3. With ATP certification, meet European food delivery standard.
4. No engine noise.due to no engine working,it is extremely low noise which can meet night delivery perfectly.
5. Durable quality, life up to 10 years.
Corunclima Electric reefer units are equipped with HIGHLY electric rotor compressor, IP68 rated, the current consumption is low, the failure rate is low.The DC Compressor built in have been tested again and again at variable conditions, quality and stability have been proven by our partners in Australia, Canada, Mexico, South Africa.
Corunclima battery driven refrigeration units are applicable for electric truck and engine truck. you can charge at night and working at day time. For electric vans/trucks, no reduce drive-miles. For engine-vans/trucks, it is the best choice to equip with, because there is no need to install compressor on engine, save fuel, release engine power, reduce engine wear,full cooling even Engine idling and engine-off.
We have already been installed on Maxus e-deliver3, e-NV200, BYD T3, Kangoo Z.E, full electric vans, and Kangoo, Partner, compact, connect, Debica, Dobalo, Citan, Vieto, Caddy, Combo etc engine vans in Australia, Canada, US, Latin America, South Africa, UK, Germany, Japan etc.We have established strategic business cooperation with many famous brand vans&truck builders, included but not limited VW Caddy, Renault Kangoo, Maxus, e-NV200, BYD T3, etc.
In addition to reliable products and cooperative services, we also provide customized solutions for different applications.
Looking for long-term partners at info@corunclima.com.
TAG:&nbsp&nbspdc electric refrigeration unit