Corunclima Truck Transport Refrigeration Unit V650F Installed In Peru
Author:Corun Date:2022/06/08
Recently, a new batch of Corunclima engine driven refrigeration systems were installed on Isuzu and Hyundai chassis for 6m*2.4m*2.25m truck body in Peru.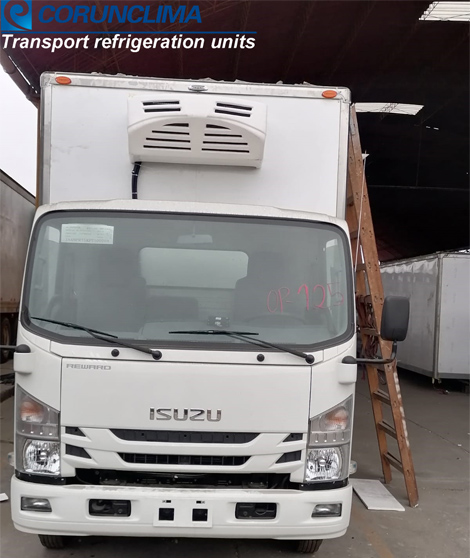 We have more than 6 years cooperation with the local partner. With reliable quality, fast cooling performance, corunclima is committed to helping our partners with the full cooling solutions and increase their business and profits in the market.
Corunclima truck transport refrigeration units V650F is a front mounted refrigeration unit, designed for 3 to 8tons refrigerated trucks, chiller trucks, food trucks etc (24M³to 35M³truck box), it is widely adopted by the cold-chain logistics companies related to dairy, vegetable and fruit, fish meat etc.
Mounted on the front side of the container or box, its temperature range is from +5℃ to -20℃. We have updated new V650F to customers, condenser is double-layer core, double anti-corrosion, cooling fast and long life. Even in the hot environment, high humidity (55℃) of the Middle East, this model still have a good cooling performance. We have installed on many different truck brands, such as Hino, Fuso. Isuzu, Tata etc, with affordable price and reliable cooling effect, model V650F is a sure-fire good choice for majority of refrigerated truck owners and end-users.
Benefits:
1. Original QP, TM compressor, Danfoss valves.
2. AC380V/220V standby system built-in condenser is optional.
3. Low cost, low maintenance, and low noise in operation.
4. Cooling performance is lasting for long transportation distance.
Our company is founded in 1999, since 2008, we begin to export to the Overseas regions. Up to now, we have set warehouse in Mexico and south africa. We are TOP 1 export manufacturer among all Chinese freezer unit Suppliers, and have big Project support experience, we can provide proper and cost effective solution for you.
Welcome to customize/OEM/ODM. Dealer wanted.
Contact us to get more cooling solutions for you.
TAG:&nbsp&nbsprefrigeration unit for truck