Why Choose Corunclima Electric Refrigeration Unit ?
Author:Corun Date:2022/06/14
Corunclima is a reliable manufacturer mainly committed to durable transport refrigeration system and air conditioner for different kinds of vehicles.
Corunclima focus on electric refrigeration system since 2008.Our products are suitable for mini Vans, mid Vans and Light trucks, and we are applicable for both Full Electric and Engine vehicles.
1) Electric vehicles, for chiller and frozen application. So far we have OEM on LDV e-delivery 3, Nissan e-NV200, BYD T3 etc in Europe and Japan.
2) Non-electric vehicles. can be used for chiller application for 4-7m³ box, and frozen application for 3-4m³ box. So far we have OEM on VW caddy van, and have plenty installations on other brands of vans such as Ford, LDV, Renault etc and Japanese brands of pickups.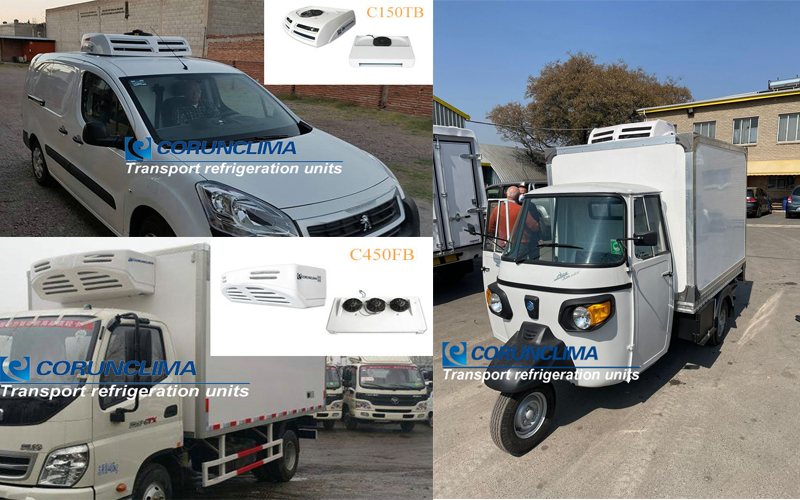 Corunclima DC Electric cooling solutions are powered by battery bank, the battery bank is separate with engine and car's battery, without any impact on the truck/van engine. You can charge at night and working at day time.Save fuel and easy to install, release engine power, reduce engine damage.Till now,more and more fleets have equipped with Corunclima brand dc refrigeration system, here you can get not only a much higher profitable unit, but also a a complete set of solution.It is very convenient and much save your time&cost.We have been installed on different application and highly praised by our customers in Canada, US, Mexico, Australia, South Africa, Japan, Germany, UK etc.
The advantages customers choose us are included not limited:
1. No need-install compressor on engine, so reduce installation time.
2. Save-fuel to reducing operating cost.
3. Heating is optional,battery bank is optional.
4. Special for last-mile fresh and frozen delivery.
5. With ATP certification and OEM to refrigerated van builders.
Corunclima reliable and durable refrigeration system have helped more and more partners expand the sales and consolide their market place. besides, knowing our partners well is also important for the cooperation.
Covid-19 has been there for more than 2 years, we can see the changes in the world. When you are still hesitating whether to change or not, other companies have seen the opportunity and made changes.
Now, contact us to explore the market possibilities together at info@corunclima.com.
TAG:&nbsp&nbspdc electric refrigeration unit