The Introduction Of Corunclima Pure DC Electrical Bus Air Conditioner
Author:Corun Date:2022/05/24
Corunclima rooftop all-in-one electric air conditioner is designed special for Minibus, Vans, Hybrid bus, EV bus etc. It is available for both electric vehicles and fuel driven vehicles.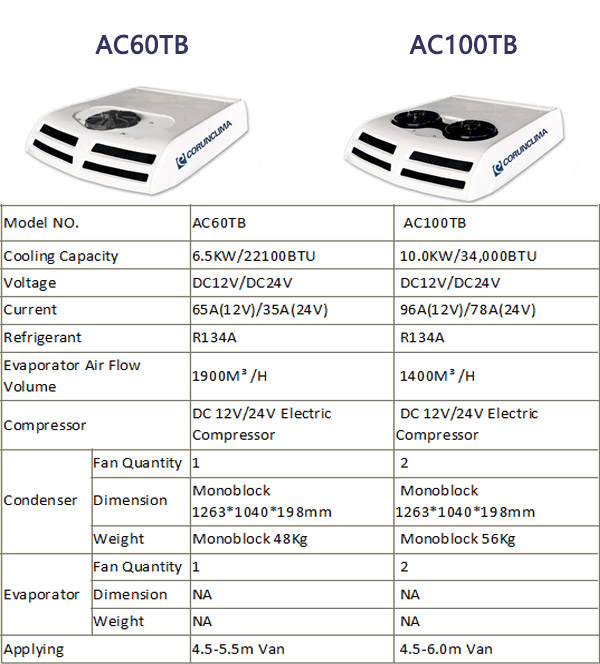 It is driven by DC12V/DC24V directly (Alternator or Battery). All system are DC12V/DC24V electrical. The whole installation was very easy, you don't need to install air duct and charge refrigerant gas as it had been full charged in factory. Just cut a hole on the roof , fix the aircon, and then install the alternator and connect power supply wiring to A/C.
With big cooling capacity, fast cooling speed, we can guarantee the largest comfort for drivers and passengers while show the strongest adaptability to any kinds of harsh weather and road condition. Till now, this model has successfully installed on different brands of vans, including Ford Transit, Mercedes Sprinter etc, and the reliable quality is approved by Canada, Mexico, Latin America, Australia, South Africa, UAE, Southeast Asia. Even in UAE, the ambient temperature is more than 52℃, our full-electric A/C units can still work perfectly too.
Advantages of bus air conditioning system:
1. No need to install mechanical compressor
2. Save fuel, Keep quiet, easy to operate
3. Works well even in extremely hot areas such as UAE, Australia,etc.
4. Much lighter than Engine type bus A/C
5. Fast cooling. 10miutes will feeling cool.
From 2008 , Corunclima started to design, test and produce the full DC electric air conditioner, we have always strived for reducing operation cost and energy bills while providing durable and efficient air conditioning system for our partners.
These years, we set up warehouse in Africa and Mexico, utilizing the experience and expertise of our team, Corunclima consistently pioneers new and improved solutions that best suit your air conditioning needs.
Looking for long-term partners at info@corunclima.com.
TAG:&nbsp&nbspelectric bus air conditioner